Pale redhead Claire Robbins
strictly restrained and
roughly fucked, brutal messy
deepthroat! | Claire Robbins | Matt Williams | Owen Gray


Feb 4, 2015




Redheaded dungeon pet tightly tied and dicked down by hard cock

Don't let Claire Robbins wholesome looks fool you. Underneath that adorable and innocent face beats the heart of a wanton cock slut that lives to have all of her holes stuffed full of cock. The harder and rougher you are with her, the wetter she gets. This pale skinned redhead is a perfect fit for Sexuallybroken. Let's get started, shall we?

We start off with some firmly bound hands and a naked dungeon pet on her knees, where she belongs. We introduce a big hard dick right into our eager pet's wide open mouth. Claire sputters and drool pours out of her straining face pussy, covering her perky tits and running down her belly. Claire's eyes glaze over as the relentless dick drills her down.

Shifting our pet onto our handy nearby fuck table, we tie her toes up towards the ceiling. We now have full access to both ends and we make full use of that fact. Back and forth the dick dips, using both holes as we see fit. Claire moans and cums all over the hard cock as it trains out her holes like the fuckmeat she is. The bondage keeps her securely in place, she can not dodge the dick.

The cock wins in the end. Claire is reduced to a twitching lump of well fucked flesh, held up only by her bondage. Her eyes are glassy, her makeup is destroyed and drool covers her face. It is a very good look on her. You can understand why we keep having this one back, she is just too much fun to play with...
Girl next door Claire Robbins
bound and brutally fucked by
big dick, punishing
deepthroat! | Claire Robbins | Owen Gray | Matt Williams


Jan 23, 2015




All natural cutie bound with belts and used hard and rough by big dick

Claire Robbins is as cute and innocent looking as they come. Her girl next door looks make her look like your babysitter. Unlike your babysitter, however, Claire puts out. She puts out hard. She came here today to be destroyed as only Sexuallybroken can.

Bound with belts onto a custom made bondage device that puts her holes at the perfect fucking height, both ends of our pet are wide open and eager. We have a big black ballgag wedged between those cock sucking lips to remind Claire what her mouth is good for, but we quickly remove it and replace it with the real thing.

The dick is introduced to the back of Claire's throat and the drool starts almost immediately. It is a brutal messy deepthroat without an ounce of mercy, and our babysitter is destroyed in short order. We turn around and pound out the pussy with just as much vigor.

Back and forth we go, deepthroat, bondage, multiple orgasms, vibrator and rough fucking until Claire is reduced to a twitchy sticky mess of porn star. Her makeup and hair is destroyed and her eyes have gone vacant, This is how all babysitters should end up looking, honestly...
Pale Claire Robbins tightly
tied and trained as dungeon
sex slave with brutal messy
deepthroat! | Claire Robbins | Matt Williams | Owen Gray


Dec 31, 2014




Redheaded girl next door bound and spanked while roughly fucked by big cock

This all natural girl next door looks too pure to be in porn, but Claire Robbins is proof that looks can be deceiving. The rough handling and brutal deepthroat that Sexuallybroken specializes in is exactly the sort of thing that she lives for. The tighter you tie, the wetter she gets.

Starting off with an over the knee spanking that perfectly displays her juicy ass and white cotton panties, Claire is soon sporting a rosy glow. The only thing that could possibly be better is some dick, and we introduce hard cock deeply down her gasping mouth. Back and forth the dick dips, taking both ends as it sees fit.

After ripping out a shuddering orgasm out of Claire's tight pussy, we drop her down to her knees. Her panties are shoved down to her knees and drool covers her shirt. We add to the drool with more face fucking. Adding a vibrator sends Claire tumbling into sexual subspace.

When we are done, we tie off our pet's neck rope to the ceiling. Claire is left shattered and sticky, unable to even twitch. She languishes in her strict restraint, her breath coming in shallow gasps. Welcome back to Sexuallybroken my dear.
Little Miss Robbins | Claire Robbins | Jack Hammer
Nov 19, 2014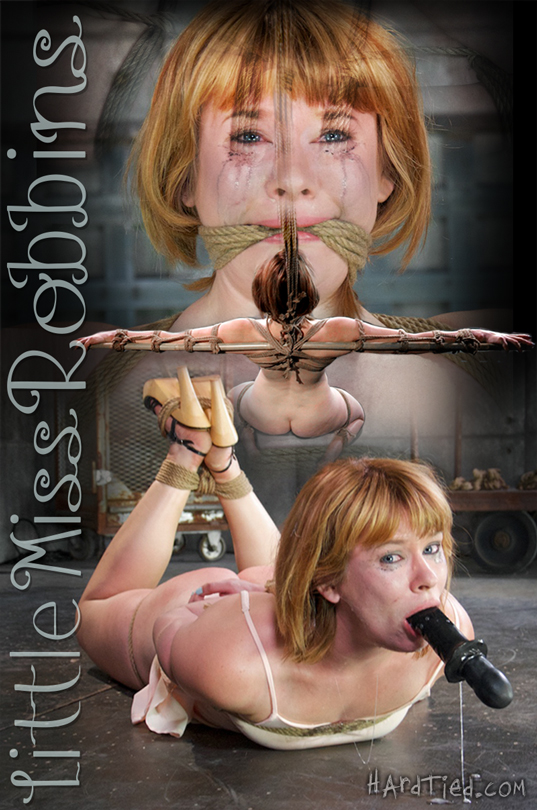 "I like to be tied up and roughed up," she said. Well, dear, you've come to the right place. Claire Robbins wants the full BDSM experience. Rope, corporal punishment, and intense orgasms, and she thinks she's ready. She isn't.

First off, her holes could use a bit more training. Jack Hammer has more cock than she can handle. She is going to have to learn to deal with the dildos before she can upgrade to the real thing. When the rubber dick starts pounding the back of her throat her gag reflex kicks in. If she can't manage to do something as simple as cum and suck cock at the same time then she has no hope of satisfying a man.

Sometimes we just want to see them cum. That's when we pull out the Sybian. This ride-on vibrator pumps out the most incredible orgasms any woman will ever have. It literally has Claire cumming so hard that she starts to cry. Or maybe the tears are from the flogging, caning, and riding crop that she had to endure. Since she can't speak with that rope gag in her mouth I guess we'll never know.
Eager cock slut Claire Robbins
gets pounded by 2 big cocks,
brutal deepthroat and
punishing fucking! | Claire Robbins | Matt Williams | Jack Hammer
May 16, 2014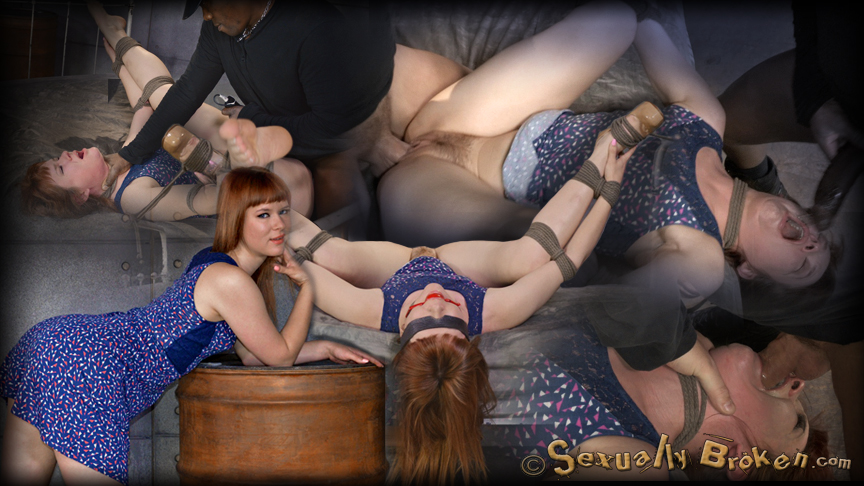 We love Claire Robbins here at Sexuallybroken. This all natural redheaded cutie is the girl next door with a twist-she is a complete and total unapologetic freak. She does the dirtiest hardcore action imaginable with an angel face. And where to angel faced perverts go to get the hardcore action they so badly crave? Sexuallybroken of course.

Bound in a classic fuck me position on the legendary Sexuallybroken fuckbed with her white little toes pointed up to the ceiling, Claire is in the perfect position for the epic dicking down she is about to receive. Today is simply about turning this wholesome harlot into a bag of holes. And we are bringing not one but to massive cocks to the table to complete the task. The plan is simplicity in itself. Ragdoll fuck her all over the bed until she can no longer recall her own name.

Aided by our trusty vibrator and some rock hard cock, we proceed to destroy this cutie. It is an unrelenting takedown via dick and orgasms. Claire lives for this sort of thing and you can see her blissfully dropping into the subspace she so deeply craves. The bondage, the cock, the hard cumming are the keys that unlock the door to complete sexual abandon. Claire is reduced to a babbling cross eyed fuckdoll.

When we have had our fill of this slut's mouth and perfect pink pussy, we walk away, leaving her still bound and twitching on the bed in bondage. She is a glassy eyed undone puddle of well fucked flesh. Which is just how we like them around here.